Exhibit News: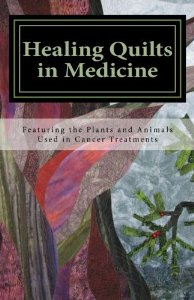 Our series of quilts that will be permanently installed at the cancer center at Fair Oaks Hopsital will travel to International Quilt Festival in Chicago, Long Beach and Houston. These 21 artworks are based on the plants and animals used in cancer treatments. Thirteen of these works made their debut at the National Institutes of Health and were on display from May 2012 - May 2013.
Buy our book of this complete exhibit for $9.99 ($2.95 S&H). All proceeds will go to support our healing quilt projects.
---

Our Vinescapes exhibit is traveling with the Original Sewing and Quilt Expo. Check out the locations where you can see our exhibit on their website.